A native of Fairfax, Virginia goalkeeper Joe Rice is a graduate of the inaugural Prep4Pro program in 2019. It was an experience he says that both opened his eyes to and fully prepared him for the reality of life as a keeper in professional football.
Placed under the watchful eye of P4P goalkeeper coach Jim Leighton, a 91-times capped Scotland, Aberdeen and Manchester United goalkeeper, Joe Rice says: "It really was a case of prep for pro, for me. Jim worked with the keepers every day and his feedback was always a great support to me. Until that point I'd always thought that playing at a high level was all about talent, about your physical qualities but what he demonstrated in the drills, advice and examples from his own career is that consistency is what you are aiming for. A high level of performance, whenever you take the field. And that's especially true as a goalkeeper, where there's no hiding place if your standards drop."
The 6ft 4in tall stopper played his college soccer at Virginia Commonwealth University between 2014 and 2018, also turning out in the National Premier Soccer League with Chesterfield United and Virginia Beach City and the USL PDL side Lionsbridge FC, where Prep4Pro's coaches evaluated him in competitive action.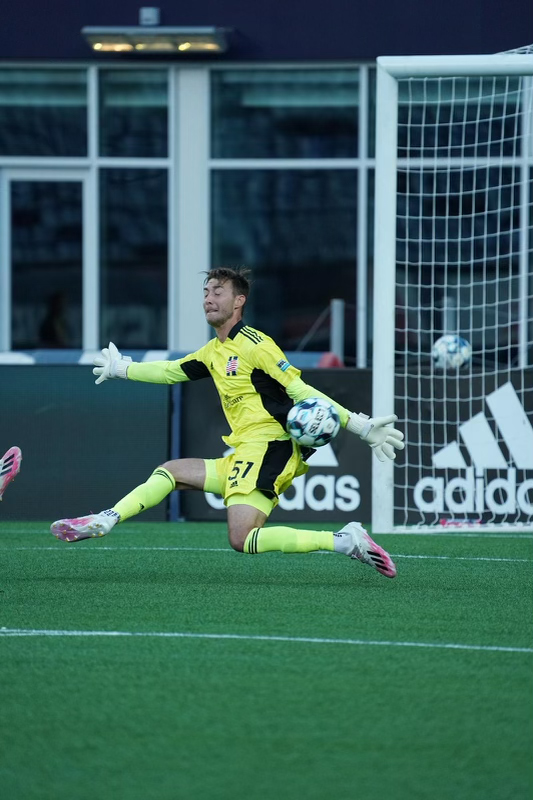 After taking part in the first Prep4Pro camp in Williamsburg, Rice signed a professional contract with local USL League One side Richmond Kickers. It was a move that was to prove something of a false dawn for Rice, as his opportunities were limited after the coach that signed him was fired.
Rice says: "Reflecting on it now I can see that the disappointments there merely made me more determined. I'd got my first taste of the professional game and I know that's the environment I want to be in. I worked hard and I thought about Jim Leighton's advice that as a goalkeeper you've always got to be ready, to step up when the opportunity comes along."
And opportunity knocked soon after when Rice joined New England Revolution II in Boston, following a successful trial, ahead of the 2020 season. Signed as a third keeper with no real expectation, Rice quickly established himself as the number one at his new side, going onto play over 30 first team games in a two season spell overshadowed by the Covid shutdown and latterly by injury heartache.
Rice broke his arm in the 94th minute of the season's final game and as a consequence he was not announced as a returning player for the club's 2022 season where they'd be competing in the newly formed MLS Next Pro league. But though the stop off in Boston ended in frustration it did confirm two things to Rice that had been underlined to him at Prep4Pro: "Firstly, that I had the ability and qualities to be a first team keeper and secondly, after two seasons training in and around the first team I was confident that, just as the coaches said, I was a player that would fit my levels to the standard I was playing at, get better the higher I went and wouldn't let anyone down if I was thrown into a big game."
With his recuperation complete and the world emerging from the Covid disruptions Rice is ready to pick up where he left off. After a series of trials, including stops at a number of MLS clubs, it was announced he had joined USL Championship side Loudoun United on February 11, 2022.
Loudon are part of the DC United organisation, and at the age of 25 Rice certainly feels that he has a great opportunity to kick on this season.
He says: "At this stage I am not ruling anything in or out, progressing in the US, playing in Europe. I definitely understand what it takes to be successful. If you show up, if you are consistent, if you keep working hard, you never know what will happen.
"My experience so far, trialling with MLS clubs has just underlined for me that I can hold my own at a high level, that I am a good goalkeeper who is right to be ambitious."